Rojas Pamplona 6110
Previous Page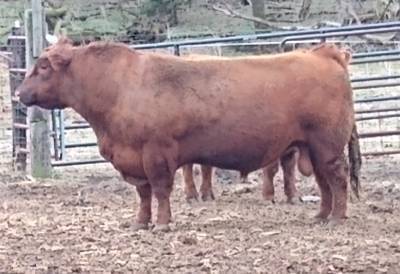 HB
GM
CED
BW
WW
YW
MILK
ME
HPG
CEM
STAY
Acc
Acc
Acc
Acc
Acc
Acc
Acc
Acc
Acc
Acc
144
46
9
-.2
46
71
37
-11
10
4
15
.34
.42
.40
.40
.38
0
.21
.20
.17
Sire: Red KBJ Wild Card 896S
Tattoo: 6110
Birth Date: Feb 2016
BW: 64
WW: 706
YW: 1,225
Cane Code: 129AR326
FS: n/a
A unique outcross sire that is moderate frame size with a big scrotal circumference, a sharp and clean front end, a strong top line, with good feet and legs backed by tremendous cow power from the U2 Program in Canada, this eye-appealing young sire offers a top 1% Maternal Milk EPD and a top 4% Maintenance Energy EPD value to identify him as a sire of productive daughters. A
maternal brother sold for $97,000 in the 2017 U2 sale proving the value provided by his powerful dam that everyone loves when viewing the cowherd in Canada and the sire of Pamplona also sired Christy Collins' U2 donor "Moonbeam 194W" who was the National Western Reserve Champion Female.
With a very moderate birth weight of 64 pounds, trust that with time and additional data, his powerful Canadian outcross influence and prog¬eny data will build cattle that combine a solid EPD profile with exceptional phenotype and maternal strength that will positively influence the Red Angus breed.
Pictured at 3 years of age.