WKS-LMR Michifuku 3500A
Previous Page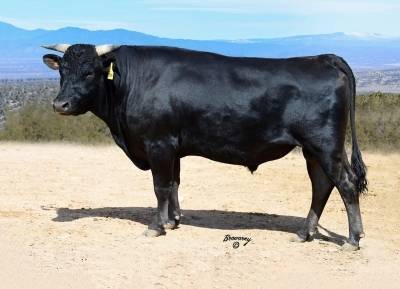 Order Semen
Semen
Semen
Unit Price with any combination of
Volume Discount Eligible Bulls

Quantity:
1+
50+
100+
Price for each:
$25.00
$22.50
$20.00
Your savings:
0%
10%
20%
Sire: World K's Michifuku
Tattoo: 3500A
Birth Date: Jul 2013
BW:
WW:
YW:
Cane Code: 54KB136
FS:
Conventional semen ONLY packaged in ½ cc straws
WKS-LMR Michifuku 3500A's maternal grandsire is Shigeshigenami J10632, the sire of Itoshigenami TF148 and Suzunami, WKS Suzutani's dam, herself renowned as the dam of both WKS Sanjirou and WKS Shigeshigetani.
Tajima breeding consists of three lines, Kumanami, Naka-Doi and Oku-Doi and the bull named Shigeshigenami is the reason the Kumanami line is on that elite list.
Shigeshigenami J10632, born in 1972 in Hyogo, was originally named Masaki, but the name was changed when the prefecture bought him as a prospective sire.
However, a year after Hyogo Prefecture purchased him, Shigeshigenami was sold to Yodomi-san, a calf grower who entered him in a Miyagi auction in June 1974 where he was purchased for the then unbelievable price of 4.5 million yen, by the prefecture.
By the time of his death in 1980, almost 30% of all Wagyu calves in Miyagi Prefecture had been sired by Shigeshigenami and he is ranked Number 4 by Kenichi Ono following Yasufuku J930, Dai 7 Itozakura and Kitaguni 7/8 in his informed and enlightened book Outstanding Wagyu of Japan.
Ono say, "Shigeshigenami is famous throughout Japan for increasing the quality of Wagyu cattle in Miyagi Prefecture."
The dam of 3500A HOK Nakahana 5 is a half sibling to WKS Nakayuki, the mother of WKS Kitaguni Jr and in the Wagyu breed it is wise to never underestimate the maternal influence.
What can be said that has not already been said about WKS-LMR Michifuku 3500's sire, WKS Michifuku?
He is not only the sire of WKS Sanjirou, but also has a storied pedigree as his sire Monjiro J11550 is one of the 15 most distinguished Wagyu of Japan, according to Kenichi Ono, ranked as Number 7 and his grandsire is the legendary Yasumi-Doi J10328.
Monjiro was born March 15, 1981 in Hyogo Prefecture and was the 11th calf from his dam Harumi J1086409.
Monjiro, originally named Harutoshi 2, was just a yearling when he won the number two spot at the Zenkyo All-Japan Wagyu Show and was auctioned for $160,000.
Tanishige J1526 sired WKS Michifuku's dam Michiko J655636 and WKS Suzutani and was a celebrated son of Yasutani-Doi J472 who was himself a renowned son of Yasumi-Doi J1032 and the sire of Yasufuku J930, Tanifuku-Doi J1606, and the grandsire of Kimifuku 3.
All in all, 3500A is the result of a brilliant Tajima breeding and he is an example of carcass potential that one can expect from the pedigree of his siblins such as LMR Michifuku 4337B whose rib eye is pictured with 47.77% IMF.
WKS-LMR Michifuku 3500A has an exemplary set of BREEDPLAN data for Ribeye EBV, Marble Score EBV and Marble Fineness EBV.
TESTED FREE by parentage of all known Wagyu genetic defects.
SCD AA
Tenderness 3