Basin Payweight 1682
Previous Page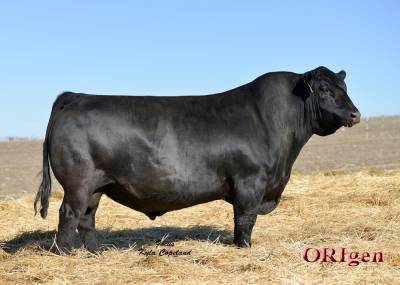 Production
CED
BW
WW
YW
RADG
DMI
7
0.6
66
118
0.26
0.93
0.92
0.97
0.97
0.96
0.79
0.79
45
35
30
30
35
-
YH
SC
DOC
HP
CLAW
ANGLE
PAP
-0.1
1.00
23
8.0
0.57
0.48
0.79
0.96
0.95
0.93
0.82
0.86
0.86
0.51
-
40
25
-
-
45
45
Maternal
CEM
MILK
MW
MH
$EN
10
31
23
-0.3
-4
0.92
0.92
0.85
0.83
35
15
-
-
25
Carcass
CW
MARB
RE
FAT
52
0.58
0.29
0.065
0.76
0.74
0.71
0.75
30
45
-
-
$Values
$M
$W
$F
$G
$B
$C
75
93
99
39
138
254
15
2
30
-
45
30
Sire: Basin Payweight 006S
Tattoo: 1682
Birth Date: Feb 2011
BW: 89
WW: 757
YW: 1,197
Cane Code: 237AN2371
FS: 5.9
[ AMF-CAF-D2F-DDF-M1F-NHF-OHF-OSF ]
Conventional semen available in ¼ cc straws
A cornerstone ORIgen Pathfinder Sire who amazes visitors to ORIgen with his power and mobility at 10 years of age, Payweight 1682 was the Number 12 sire for progeny registered by the American Angus Association for 2020, ranking among the top 10 sires for 2019 after being ranked Number 4 in 2018 and Number 6 in 2017, even though demand for his semen has exceeded supply for much of his time at ORIgen.
This high volume, easy fleshing individual is one of the bulls that cattlemen come to see at ORIgen and as his progeny registered demonstrate, Basin Payweight 1682 has been one of the highest demand sires in the more than a decade and a half history of ORIgen, and with the recent reduction in price and increased availability, he has seen renewed interest and use across the beef industry.
With sons that topped bull sales across the nation four the past four years and few calving-ease bulls in Angus history have ever offered the extreme body mass and depth of body that is a trademark of Basin Payweight 1682 and his progeny, in combination with elite growth values and a look that appeals to both purebred and commercial cattlemen.
Sons of Payweight 1682 are headlined by the $730,000 record-setting V A R Power Play 7018, the growth leader who is the sire of four sons, Stock Fund, Fundamental, Vanguard and Jailbreak that are now featured at ORIgen his son Playbook is the sire of the exciting young Final Play who is a promising 2022 addition to ORIgen.
Basin Payweight 1682 daughters in production display his depth of body and ease of fleshing with nice udder structure and a brood cow look, and his daughters have topped Angus sales across the continent with his full sister Basin O Lass 1663 setting a Montana Angus record when half-interest of her sold for $210,000 at the NILE Sale in Billings after her first natural son topped the 2014 Midland Test Sale at $105,000.
A $200,000 daughter of Payweight 1682 at Riverbend Ranch, whose flush sisters sold half-interest for $200,000 and for $215,000 as the 2018 Angus Foundation donation heifer produced a $50,000 heifer calf pregnancy at Riverbend in 2019 with her first natural son topping the 2020 Riverbend Ranch Bull Sale at $76,000.
In the 2021 Big Event at Express a daughter of Payweight 1682 sold for $180,000 to Riverbend Ranch as the featured and top-selling donor cow after producing three daughters by the ORIgen sires EXAR Grenade and EXAR Guru that sold for $180,000, $140,000 and $80,000 to make them one of the strongest families ever sold from America's largest registered Angus herd.
As of 11-24-21, among all ORIgen Angus sires, top 9 for Calving Ease Maternal EPD with 9,270 progeny genomic tested with 5,516 progeny that record an average yearling ratio of 102 and 5,715 progeny that record an average %IMF ratio of 102, this living Angus legend is also elite for $Weaned calf value index
Owners Information:
Basin Angus Ranch
Joliet, MT
Ellis Cattle Company
Red Lodge, MT

ABS Global
DeForest, WI