LMR Yuki 9273G
Previous Page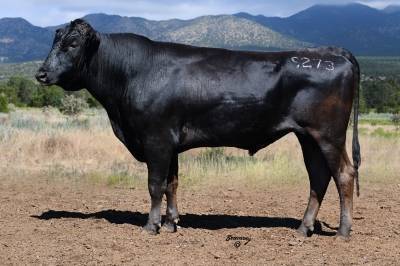 Order Semen
Semen
Semen
Unit Price with any combination of
Volume Discount Eligible Bulls

Quantity:
1+
50+
100+
Price for each:
$50.00
$45.00
$40.00
Your savings:
0%
10%
20%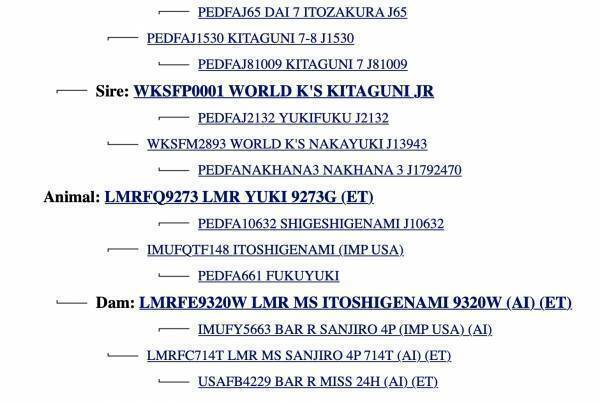 Sire: Itoshigenami TF148
Tattoo: 9273G
Birth Date: Apr 2019
BW:
WW:
YW:
Cane Code: 59KB72
FS:
Free of all known Wagyu Defects: Free, including IARS
· SCD: AA
· Tenderness: 5
LMR Yuki 9273G, sired by Kitaguni Jr out of a dam sired by Itoshigenami TF148, ranks in the Top 1% of all Wagyu bulls outside of Japan for Marble Score EBV (+2.4) and Marble Fineness EBV (+0.45). 9273G is a full-sib of 9271G.
WKS Kitaguni Jr, the #1 Dam Sire in the most recent Lone Mountain Sire Performance Study (SPS) for Marbling (84 carcasses = average 34.81% IMF). Kitaguni Jr shows decent numbers as a sire, averaging 34.28% IMF on 121 LMR imaged carcasses. In BREEDPLAN, Kitaguni Jr is one of the leading sires with a Marble Score EBV of +1.7 and is a Trait Leader and Top 1% for Birthweight EBV (-3.5).
Itoshigenami TF148 is the sire of Mayura Itoshigenami Jnr 0139, the so-called "The King of Australian Wagyu Sires" and grandsire of Mayura L0010. TF148 is a Trait Leader and Top 5% for Birthweight EBV (-1.8) and is a Trait Leader and ranks in the Top 1% for Marble Score (+2.3).
9273G's dam, LMR Ms Itoshigenami 9320W, is Lone Mountain's most valuable donor, having produced 27 calves, including a Yasufuku cow that graded 36% IMF; 2 Kitaguni steers that graded 43% and 36% IMF; 38% Haruki steer; and 3 434B steers that graded 40%, 38% and 37% IMF. 9320W's dam, LMR Ms Sanjirou 4P 714T, produced a 40% IMF Kitaguni steer before she was sold and 2 of our most valuable donors (still active) in addition to 9320W.
LMR Tsuyoshi 9273G displays 56% Tajima; 16% Itozakura; 6% Shimane; 4% Okayama; and 3% Tottori and Kedaka bloodlines.
LMR Tsuyoshi 9273G semen is qualified for US, most of Central and South America, Mexico, Canada, South Africa, Australia & New Zealand.
Owners Information:
Lone Mountain Cattle Co
Golden, NM