LMR Yuki 9273G
Previous Page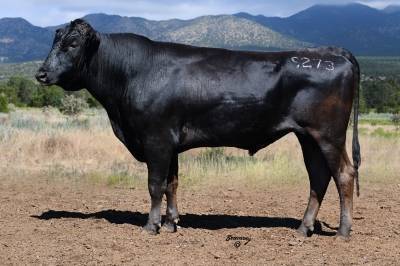 Order Semen
Semen
Semen
Unit Price with any combination of
Volume Discount Eligible Bulls

Quantity:
1+
50+
100+
Price for each:
$50.00
$45.00
$40.00
Your savings:
0%
10%
20%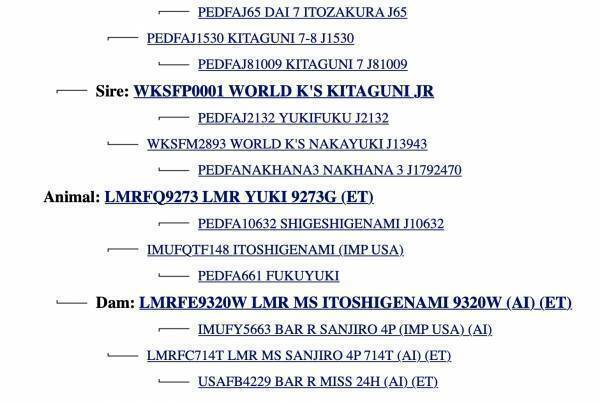 Sire: Itoshigenami TF148
Tattoo: 9273G
Birth Date: Apr 2019
BW:
WW:
YW:
Cane Code: 59KB72
FS:
TESTED FREE of all known Wagyu genetic defects, including IARS
SCD-AA, Igenity Tenderness 5
Ultra-elite in the Australian system for Marble Score EBV and F1 Terminal Index to sire ultra-high crossbred carcass quality, this young sire is elite for Fullblood Terminal Index and Marble Fineness EBV with solid calving ease genetics based upon Gestation Length EBV and Birth Weight EPD and a superior Self Replacing Index value.
Sired by Kitaguni Jr out of a dam sired by Itoshigenami TF148 is a full brother to the young ORIgen sire LMR Tsuyoshi 9271G ET and their sire WKS Kitaguni Jr, was the NUMBER 1 Dam Sire in the most recent Lone Mountain Sire Performance Study (SPS) for Marbling with 84 carcasses recording an average of 34.81% IMF and as a sire, his progeny have recorded an average of 34.28% IMF on 121 LMR imaged carcasses.
Kitaguni Jr is a trait leader for Marble Score EBV and Birth Weight EBV and the dam of 9273G is a paternal sister to Mayura Itoshigenami Jnr 0139, the so-called "The King of Australian Wagyu Sires" and TF148 is also a trait leader for Birth Weight EBV and Marble Score EBV.
The dam of 9273G is Lone Mountain's most valuable donor, having produced 27 calves, including a Yasufuku female that graded 36% IMF; two Kitaguni steers that graded 43% and 36% IMF; a 38% Haruki steer; and three 434B steers that graded 40%, 38% and 37% IMF.
The grandam of 9273G produced a 40% IMF Kitaguni steer two of our most valuable active donors in addition to 9320W before she was sold.
The pedigree of LMR Tsuyoshi 9273G displays 56% Tajima; 16% Itozakura; 6% Shimane; 4% Okayama; and 3% Tottori and Kedaka bloodlines.
LMR Tsuyoshi 9273G semen is qualified for US, most of Central and South America, Mexico, Canada, South Africa, Australia & New Zealand.
Owners Information:
Lone Mountain Cattle Co
Golden, NM