THM Top Gun 8105
Previous Page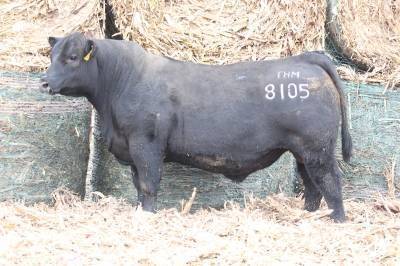 Production
CED
BW
WW
YW
RADG
DMI
8
2.0
81
148
0.36
1.15
0.34
0.54
0.46
0.41
0.32
0.32
35
-
3
2
1
-
YH
SC
DOC
HP
CLAW
ANGLE
PAP
1.3
0.90
27
14.3
0.56
0.54
2.28
0.46
0.40
0.34
0.21
0.26
0.26
0.25
-
45
10
15
-
-
-
Maternal
CEM
MILK
MW
MH
$EN
8
30
104
0.8
-42
0.28
0.30
0.37
0.40
-
20
-
-
-
Carcass
CW
MARB
RE
FAT
65
0.59
0.84
-0.034
0.41
0.36
0.36
0.32
10
45
15
-
$Values
$M
$W
$F
$G
$B
$C
62
84
113
56
169
281
40
4
3
25
10
10
Sire: 2 S Top Ten
Tattoo: 8105
Birth Date: Nov 2018
BW: 79
WW: 733
YW: 1,287
Cane Code:
FS:
[ AMF-CAF-D2F-DDF-M1F-NHF-OHF-OSF-RDF ]
The son of the $46,000 valued top-selling bull of the fall 2017 2 S Angus sale in Missouri to replace his sire at ORIgen, his sire combines excellence in the growth and carcass traits that power his breed-leading $Beef value index with excellence in the basics of beef production and phenotypic excellence of overall balance, structural soundness and mobility.
Dam is a daughter of the $275,000 Pathfinder Sire Harvestor descending from the $170,000 National Western Foundation Female record-setting RB Lady Standard 305-890 to give this young power bull a heritage of great cows behind him.
In the Spring 2021 NCE Update:
NUMBER 4 at ORIgen for Residual Average Daily Gain EPD and elite top 1% for Residual Average Daily Gain EPD, top 2% for Yearling Weight EPD, top 3% for Weaning Weight EPD and top 4% for $Weaned calf value index.
Owners Information:
THM Investments LLC
Hermann, MO
Crooked Creek Angus
Elmo, MO