LMR Denjiro 6532D
Previous Page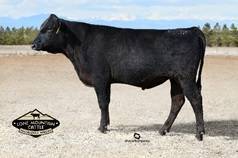 Order Semen
Semen
Semen
Unit Price with any combination of
Volume Discount Eligible Bulls

Quantity:
1+
50+
100+
Price for each:
$35.00
$31.50
$28.00
Your savings:
0%
10%
20%
Sire: World K'S Michifuku
Tattoo: M6532
Birth Date: Aug 2016
BW:
WW:
YW:
Cane Code: 59KB52
FS:
Conventional semen ONLY packaged in ½ cc straws
LMR Denjiro 6532D is Lone Mountain's newest AA 10 Sire, with impeccable credentials: Michifuku x JVP Fukutsuru 068.

LMR Denjiro 6532D's sire Michifuku is famous for good reason, see his steer and heifer below (4337B & 4360B) grading 47.77% & 45.77% IMF, respectively. Fukutsuru 068 is also represented with 4362B, grading out at 39.44% IMF.

LMR Denjiro 6532 in the November 2018 BREEDPLAN Report shows him to be in the Top 4% for genomically enhanced Marbling Fineness EBV (+0.31).

His semen is qualified for US, most of Central and South America, Mexico, Canada, South Africa, Australia and New Zealand.

AA 10 Sire and Michifuku x Fukutsuru 068
TESTED FREE for all known Wagyu genetic defects.
SCD AA
Tenderness 10