SydGen C C & 7
Previous Page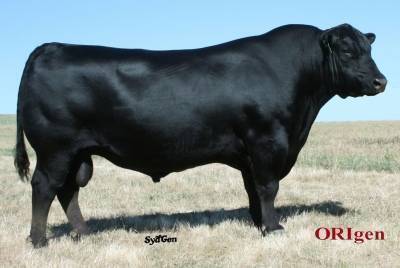 Production
CED
BW
WW
YW
RADG
DMI
9
0.9
48
99
0.31
0.28
0.89
0.97
0.97
0.95
0.68
0.68
30
45
-
-
10
20
YH
SC
DOC
HP
CLAW
ANGLE
PAP
0.5
0.97
33
15.8
0.49
0.47
2.59
0.95
0.94
0.94
0.81
0.77
0.77
0.40
-
40
2
10
45
40
-
Maternal
CEM
MILK
MW
MH
$EN
10
33
60
0.6
-22
0.92
0.94
0.88
0.89
35
10
-
-
-
Carcass
CW
MARB
RE
FAT
44
0.55
0.79
-0.037
0.80
0.78
0.75
0.78
45
45
20
-
$Values
$M
$W
$F
$G
$B
$C
66
57
106
52
158
271
30
-
15
30
20
15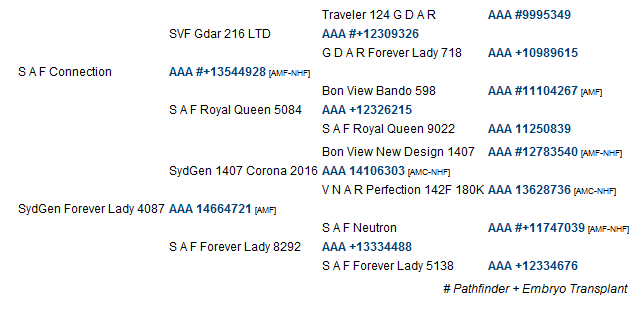 Sire: SAF Connection
Tattoo: 6099
Birth Date: Jan 2006
BW: 80
WW: 840
YW: 1,467
Cane Code: 237AN1941
FS: 7.1
[ AMF-CAF-D2F-DDF-M1F-NHF-OHF-OSF ]
Conventional semen ONLY packaged in ½ cc straws
C C & 7, whose unique name recognizes his sire and maternal grandsire and the seven SydGen donor cows in his pedigree, was the top-selling bull at our 2006 Sale to Hoover Angus for $39,000 for half interest.
This breed legend was lost in the summer of 2016, but his legacy lives on through his widely-used son featured at ORIgen Hoover Dam, and thousands of docile descendants that combine visual length of body with added muscle and proven fertility.
This cornerstone of the Angus breed pictured at ORIgen at four years of age recorded the top adjusted 205 day weight of his calf crop at SydGen for a ratio of 119, then posted the top Average Daily Gain at 3.92 pounds per day for a ratio of 124, the top adjusted 365 day weight of his calf crop to ratio 121, and the top adjusted URE measurement of 17.3 square inches for a URE ratio of 130.
His excellence at each of those points of measure has been transmitted to his tens of thousands of progeny and grand progeny around the world.
Among ORIgen sires in the Fall 2021 National Cattle Evaluation update, Number 5 Docility score EPD, Number 8 Residual Average Daily Gain EPD and Number 10 weaning weight from maternal Milk EPD
Owners Information:
Sydenstricker Genetics
Mexico, MO
Hoover Angus
Tingley, IA