SydGen Enhance [ AMF-CAF-D2F-DDF-M1F-NHF-OHF-OSF ]
Previous Page
Order Semen
Semen
Semen
Unit Price with any combination of
Volume Discount Eligible Bulls

Quantity:
1+
50+
100+
Price for each:
$40.00
$36.00
$32.00
Your savings:
0%
10%
20%
---
Order Certificates:
Production
CED
BW
WW
YW
RADG
DMI
13
0.4
75
144
0.35
0.89
0.78
0.91
0.86
0.78
0.45
0.45
YH
SC
DOC
HP
CLAW
ANGLE
0.9
1.89
39
8.3
0.62
0.49
0.79
0.76
0.74
0.33
0.23
0.23
Maternal
CEM
MILK
MW
MH
$EN
11
33
41
0.5
-14
0.35
0.3
0.44
0.45
Carcass
CW
MARB
RE
FAT
77
1.14
0.85
0.005
0.51
0.46
0.46
0.45
$Values
$W
$M
$F
$G
$B
$C
87
77
148
81
229
374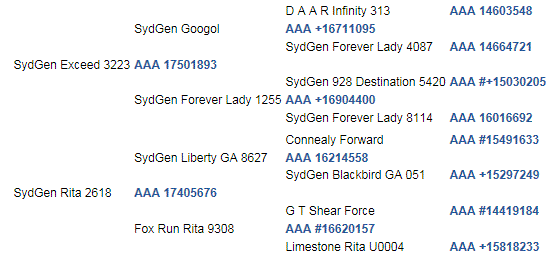 Sire: SydGen Exceed
Tattoo: 5209
Birth Date: Jan 2015
BW: 60
WW: 821
YW: 1,555
Cane Code: 237AN2869
FS: 6.6
As of 11-16-18
Number 1 ORIgen option for $Beef value index, Number 2 for Residual Average Daily Gain EPD and top 10 for $Feedlot value index, Docility score EPD, hot Carcass Weight EPD, Marbling score EPD, maternal Milk EPD, Calving Ease Direct EPD and reducing Mature Weight EPD
Top 1% for $Beef value index, $Weaned calf value index, $Feedlot value index, Yearling Weight EPD, Residual Average Daily Gain EPD, hot Carcass Weight EPD and Docility score EPD, top 2% for Weaning Weight EPD and Marbling score EPD, top 4% for $Grid value index and maternal Milk EPD, top 5% for Scrotal Circumference EPD, top 10% for Rib Eye area measure EPD and Calving Ease Direct EPD, top 15% for reducing Mature Weight EPD, top 25% for Calving Ease Maternal EPD and better than breed average for Birth Weight EPD
Among the top five sales sires from ORIgen in 2018, this international favorite increases in popularity as his first two calf crops continue to dominate sales with a son topping the 2018 Mogck & Sons Bull Sale while another was the $24,000 top-selling fall yearling of the 2018 SydGen Fall Sale where daughters sold for $85,000 and $70,000 as two of the top three fall yearling females with another selling for $40,000 as the top-selling spring heifer and a fourth ranking as the top-selling bred heifer.
SydGen Enhance continues to offer the HIGHEST $Beef value of any active sire in the American Angus Association database with a Birth Weight EPD better than breed average and as demand continues to grow for the genetics of this exceptional semen producer, NOW would be a great time to get SydGen Enhance semen in your tank for fall 2018 and early spring 2019 breeding!
At the recent Riverbend Ranch fall female sale, a heifer pregnancy by SydGen Enhance sold for $30,000 to top that division of the sale.
The recent addition of Enhance to the American Simmental EPD system and the multi-breed IGS database with EPD data enhanced by their genomic test establishes him as a multi-breed multi-trait leader that ranks top 1% for both the ASA All Purpose Index and Terminal Index values in addition to being top 1% for Marbling score EPD, Yearling Weight EPD, hot Carcass Weight EPD, Docility score EPD, Milk EPD and Average Daily Gain EPD with a top 2% ranking for Calving Ease EPD and Weaning Weight EPD and a top 4% ranking for Birth Weight EPD and among all bulls of all breeds available from ORIgen that are included in the IGS database, SydGen Enhance ranks Number 1 for Terminal Index, Number 1 for Marbling score EPD and Number 1 for Average Daily Gain EPD combining the Number 3 Yearling Weight EPD with a top 10 All Purpose Index.